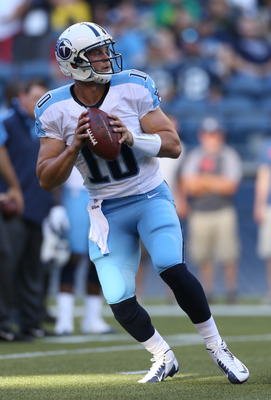 Otto Greule Jr/Getty Images
QB: Jake Locker
Tennessee Titans
The Tennessee Titans are eventually going to install the second-year player as the starting QB, but many fantasy players are hesitant that coach Mike Munchak will wait too long for Locker to make any real impact in 2012.
That's nonsense, as the gunslinger has a stronger arm and better scrambling ability than the ancient Matt Hasselbeck. Locker is poised to start his first preseason game on Frdiay against the Buccaneers, as Hasselbeck is scheduled to come off the bench for once.
It's a clear sign that the team is moving closer to starting the former Washington standout once the regular season kicks off. When that happens, Locker will be a huge steal for those who draft him late.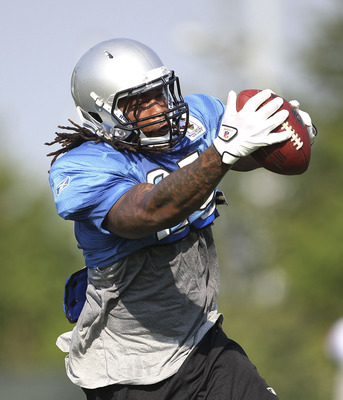 RB: Mikel Leshoure
Detroit Lions
Leshoure was supposed to make an impace last year, as he is the backup RB to Jahvid Best - the brittle scat-back who spent much of 2011 on the IR.
Unfortunately, the 2011 second-round pick missed his entire rookie season with injury, but is now fully healthy and likely hungry to make an impact.
Despite a two-game suspension, the Detroit RB will be

a fine acquisition. At worst, Leshoure is going to be a red-zone back who vultures easy scores from Best. The ceiling for Leshoure is stealing the starting job for concussion-prone Best and making a huge mark on the Detroit Lions potent offense.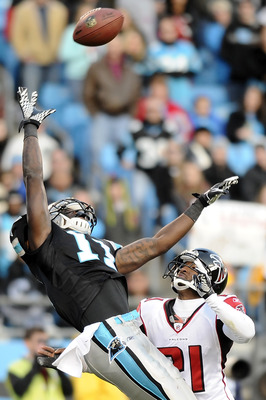 WR: Brandon LaFell
LaFell is going to be starting across from Steve Smith and has locked up the No. 2 job in Carolina. He's an interesting player to take a late-round flier on, as he has a knack for the big play and making something happen. He also had a tendency to disappear for stretches, but the third-year WR should be poised for a breakout campaign after a respectable 36-reception, 613-yard, three-touchdown year in 2011.
Cam Newton is only going to get better in 2012 after running away with the Rookie of the Year award last season. Expect the rapport between him and his other receivers (Newton already has a telepathic connection with Smith) to get much stronger.

That will translate into big numbers on the gridiron and in fantasy.
The 22-year-old TE doesn't have the best QB situation with Christian Ponder slinging the rock in Minnesota, but he has a chance to become the young signal-caller's favorite target. Incumbent starter Visanthe Shiancoe is gone, so the Minny brass decided to bring in the aging John Carlson to replace his production while preparing to lean more on Rudolph. It's quite possible that Rudolph (6'6", 260 pounds) outplays the former Seahawk and proves to be a tough matchup—especially in the red area. Considering the inexperience of Ponder and need to protect him, you can bet the Purple People Eaters will be using plenty of double-TE sets that involve Rudolph.
Hannah Foslien/Getty Images
DEF: Seattle
Seahawks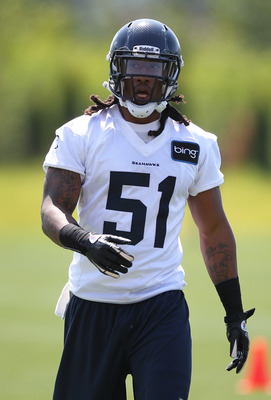 Otto Greule Jr/Getty Images
The Seahawks were one of the most underrated defenses in 2011 and only got better coming into the new season.
They were a top-10 unit that had little offensive support last year and still managed to hold opponents under 20 points per game. Considering they play in the relatively easy NFC West (Arizona has no quarterback, St. Louis is still a work in progress and no one is sure what to expect from Alex Smith in San Francisco), the Seahawks have a chance to repeat that feat.
The defense added an incredible pass rushing specialist in Bruce Irvin and addressed its need for an outside LB in the second round by selecting Bobby Wagner.
Coupled with the additions of Barrett Ruud and Jason Jones from Tennessee, this defensive unit is looking fiercer than ever.




Kay, Alex. "Fantasy Football Sleepers 2012: Top Breakout Candidate at Each Position." Bleacher Report. August 14 2012. http://bleacherreport.com/articles/1296804-fantasy-football-sleepers-2012-top-breakout-candidate-at-each-position#/articles/1296804-fantasy-football-sleepers-2012-top-breakout-candidate-at-each-position/page/2 August 14, 2012